WinScanX v1.0 - Windows auditing tool
WinScanX is a state-of-the-art Windows auditing tool designed to help you get your Windows audit done quickly. It's easy to use and no installation is required.
WinScanX Basic

| | | |
| --- | --- | --- |
| Quick Domain Audit | Not Included | X |
| Multi-Host Scanning | Not Included | X |
| GUI Front-End | X | X |
| Command-Line Interface | X | X |
| Easy-to-Use Reporting | X | X |
| Online Documentation | X | X |
WinScanX Pro can potentially scan thousands of hosts in a matter of minutes while WinScanX Basic can only scan one host at a time.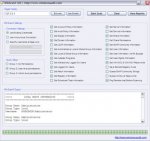 WinScanX Options and Input Files
WinScanX has over 20 options that allow a user to gather various types of information, check for easy-to-guess passwords, etc. There are also several input files that WinScanX uses to accomplish some of these tasks. Read full description
WinScanX System Requirements
The WinScanX system requirements are pretty minimal. It was designed to run on most Windows platforms. WinScanX does not require an installation. Simply unzip the files to a folder on your Windows machine.
You can run WinScanX on:
Windows 2000 Professional
Windows 2000 Server
Windows XP
Windows Server 2003
Windows Vista
Windows Server 2008
Windows 7
You can run WinScanX against:
Windows NT 4.0
Windows 2000 Professional
Windows 2000 Server
Windows XP
Windows Server 2003
Windows Vista
Windows Server 2008
Windows 7
Using the WinScanX GUI front-end:
If you opt to use the WinScanX GUI front-end you may need to install the Microsoft .NET Framework 3.5 package.}
More information: here
Post scriptum
Comments
Related Articles