OWASP Code Crawler v2.5 released
A tool aimed at assisting code review practitioners. It is a static code review tool which searches for key topics within .NET and J2EE/JAVA code. The aim of the tool is to accompany the OWASP Code review Guide and to implement a total code review solution for "everyone".
Changelog :
Code Crawler Editor
Find (CTRL+F)
Mark Findings
Select All (CTRL+A)
Copy as RTF (sweet)
CodeFolding
SyntaxHighlight
BracketMatching
Unlimited Undo/Redo buffer
Bookmarks
Go to line (CTRL+G)
Replace
Breakpoints
Single Scan Form
New User Interface
STRIDE Classification
Direct links to MSDN, Google
Shortcuts to Notepad, Calc
Threats Count
Printing
RTF Report
Visual Studio .NET (for VS 2005 - 2008)
Supports ONLY C# Project files (*.csjpro)
Bigger fonts
Mainform
New User Interface
Links to OWASP content
WASC Threat Classification 2.0
Removed OWASP Browser
Removed Network Scan
Removed Reporting Frame
Database
286 Keywords (Tripurai Rai)
Multi STRIDE Schema (Tripurai Rai)
Refactoring (Tripurai Rai)
Utilities
ASP.NET ViewState Decoder
DREAD Calculator
Currently supports
.NET (specifically C#)
Java
Requirements
.NET Framework 3.5 (Service Pack 1)
Visual Studio 2008
Windows Platform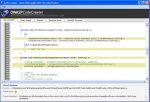 Please note that OWASP Code Crawler requires Microsoft .NET Framework 3.5 in order to run.
For more information about this tool, see the Official Web
Post scriptum
Compliance Mandates
Code Auditing :

PCI/DSS 6.3.6, 6.3.7, 6.6, SOX A12.8, GLBA 16CFR Part 314.4(b) and (2);FISMA RA-5, SC-18, SA-11 SI-2, and ISO 27001/27002 (12.4.1, 12.4.3, 12.5)
Comments
Related Articles