Katana v1.5 (Zatoichi) Multi-Boot Security Suite released
Katana is a portable multi-boot security suite designed for all your computer security needs. The idea behind this tool is to bring together all of the best security distributions to run from one USB drive. Katana includes distributions which focus on Penetration Testing, Auditing, Password Cracking, Forensics and Honey Pots.
Katana comes with over 100 portable Windows applications such as Wireshark, HiJackThis, Unstoppable Copier, and OllyDBG.
This release has a couple of major changes to the disto list and the introduction of the Katana Tool Kit. The new version should be much more friendly for all the Windows users out there. The addition of the Katana Tool Kit should make using all the portable Windows apps much easier. Another key addition to Katana is a USB write blocker to prevent that pesky anti-virus from deleting some of the tools.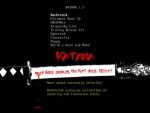 Katana is also highly customizable. One of the major goals in the project was to develop an environment where users could tailor Katana to their needs. Users can customize Katana by adding and removing Distros and Portable Applications with relative ease.
- Distros Line-Up -
The line-up this time around is as follows:
Users can still customize Katana to add thier favorite distros using the instructions posted here
Version 1.5 (codename "Zatoichi"- 02-10-2010):
Distros Removed: OSWA Assistant, Damn Small Linux, Damn Vulnerable Linux, Slax
Distros Added: Puppy Linux, Kaspersky Live, Trinity Rescue Kit, Clonezilla, Derik's Boot and Nuke
Added the Katana Tool Kit interface
Added several new Windows tools inclusing GNUWin32, Forensic Acquisition Utilities, Angry IP and The Sleuth Kit.
Changed the personal directory from "home" to "Documents".
Read the full Changelog
- Katana Tool Kit -
The Katana Tool Kit (KTK) is a suite of Windows applications which can be run of a USB Flash Drive. Without the need for installation on the base system, users can bring a suite of uncompromised tools with them anywhere. Tools like Wireshark, HiJackThis, Firefox, PuTTY, Unstoppable Copier, OllyDBG, ProcessActivityView, SniffPass Password Sniffer, ClamAV, Undelete Plus, IECookiesView, MozillaCacheView, FreeOTFE, The PC Decrapifier, FindSSN, The Sleuth Kit, and OpenOffice.
The KTK facilitates fast access to all the Katana Windows applications. The applications are broken down into the following categories: Anti-Virus, Backup, Encryption, File System, Forensics, Media, Networking, Office, Recovery, Registry, System, Utilities. Each project provides unique functionality to the various categories listed above.
See the full list of tools here.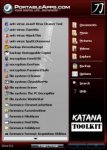 - USB Write Blocker -
A USB write blocker application has been added to help prevent malware installing on the USB Flash Drive and to prevent the anti-virus from deleting any of the totally awesome apps from the Katana Tool Kit. By running the MakeUSBReadOnly.bat on mount, unmounting and remounting the drive, going about you business, and running MakeUSBWritable.bat after you are done, you can prevent most interference by applications on the base OS.
Note
Name: Katana v1.5
File: katana-v1.5.rar
Size: 3.1 GB
MD5: 3d80c9e6629462779822f11752868bbe
Read the F.A.Q.
More information: here
«Slay your 3nom3s, Protect your 127.0.0.1»
Thanks to our friend Ronin, from HackFromACave.com !
Post scriptum
Compliance Mandates
Comments
Related Articles