FreeSentral IP PBX LiveCD v1.0 released
FreeSentral is a full IP PBX consisting of a Linux Distribution, an IP PBX and a Web Graphical User Interface for easy configuration.
Features
Define, group extensions
Set dial plan
Direct Inward Calling
Set Auto Attendant
Music on hold
Short Dialing
Set call forwarding
Voicemail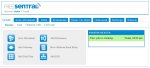 Our opinion
For all security audits on VoIP systems, FreeSental can make a quick and easy solution to implement. It can therefore be used as a training platform for testing VoIP vulnerabilities and issues. See here our VoIP tools collection to help you auditing and scanning.
Post scriptum
Related Articles