KNOPPIX 6.2.1 LiveCD available
KNOPPIX is a bootable Live system on CD or DVD, consisting of a representative collection of GNU/Linux software, automatic hardware detection, and support for many graphics cards, sound cards, SCSI and USB devices and other peripherals. KNOPPIX can be used as a productive Linux system for the desktop, educational CD, rescue system, or adapted and used as a platform for commercial software product demos. It is not necessary to install anything on a hard disk. Due to on-the-fly decompression, the CD can have up to 2 GB of executable software installed on it (over 8GB on the DVD "Maxi" edition).
KNOPPIX is a compilation of GNU/Linux software, run completely from CD, DVD or flash disk. It automatically detects and supports a wide range of graphics adapters, sound cards, USB devices and other peripheral devices. KNOPPIX can be used as a Linux demo, for training courses , as rescue system or as a platform for commercial software product demos. It is not necessary to install anything on fixed disk. Because of its transparent decompression, up to 2 gigabyes of executable software can be present on a CD, and up to 10GB on a single-layered DVD.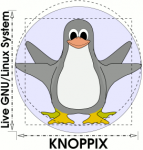 "Microknoppix" is a complete rewrite of the KNOPPIX boot system from version 60 and up, with the following features:
High compatibility with its Debian base: Aside from configuration files, nothing gets changed in Debians standard installation.
Accellerated boot procedure: Independently from the usual SysV bootscripts, multiple tasks of system initialization are run in parallel, so that interactive desktops are reached very fast.
LXDE is used as graphical environment, which is a very slim and fast desktop with extremely short starttime and low resource requirements. Because of its GTK2 base, LXDE works together nicely with screenreader Orca.
Amount of installed software has been greatly reduced in this first CD-version, so that custom remasters based on CD are possible again. On the DVD edition, KDE4 and Gnome with many applications originating from these popular desktops are available.
Network configuration is being handled by NetworkManager with nm-applet in graphics mode, and textual GUIs in textmode (compatible to Debians /etc/network/interfaces specification).
A persistent image for saving personal settings and additionally installed programs, KNOPPIX/knoppix-data.img, is supported on the boot device, optionally encrypted with AES/256bit. In general, installation as live system on flash disk is recommended.
Post scriptum
Comments
Related Articles