Process Hacker v1.7 released
Process Hacker is a free and open source process viewer and memory editor with unique features such as powerful process termination and a Regex memory searcher. It can show services, processes and their threads, modules, handles and memory regions.
Version 1.7
NEW/IMPROVED
#2873973 - "Columns window improvements"
New settings system - settings can now be saved anywhere
Decreased memory and CPU usage
Process Hacker probably runs on Windows 2000 now
FIXED
#2880368 - "Highlight Option dialog does not show current colors"
#2881084 - "System.ArgumentOutOfRangeException"
#2881951 - "Invalid cursor handle."
#2891748 - "Prompt box resize behaviour"
#2891754 - "Exception in read/write memory if memory list is empty"
#2891760 - ""Select All" menu in memory tab not working"
Fixed some crashes on 64-bit when viewing thread stacks
Remaining network list bugs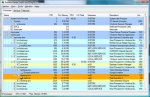 Key features of Process Hacker
Viewing, terminating, suspending and resuming processes.
Restarting processes, creating dump files, detaching from any debuggers, viewing heaps, injecting DLLs, etc.
Viewing detailed process information, statistics, and performance information.
Viewing, terminating, suspending and resuming threads.
Viewing detailed token information (including modifying privileges).
Viewing and unloading modules.
Viewing memory regions.
Viewing environment variables.
Viewing and closing handles.
Viewing, controlling and editing services.
Viewing and closing network connections.
Process Hacker runs on both 32-bit and 64-bit Windows, but certain functionality is only available on 32-bit systems, including:
Bypassing rootkits and security software when accessing processes, threads, and other objects
Viewing kernel pool limits
Viewing hidden processes
Changing handle attributes
Viewing kernel-mode stack traces
System Requirements
Microsoft Windows XP SP2 or above, 32-bit or 64-bit. Please note that certain functionality including detection of hidden processes, full control over all processes and the ability to protect/unprotect processes is only available on 32-bit systems.
Post scriptum
Compliance Mandates
Forensics :

PCI DSS 10.2, 12.9, A.1.4*, SOX DS7, HIPAA 164.308(a)(1) and (a)(6), FISMA IR-7, ISO 27001/27002 13.2.1, 13.2.3
*Shared Hosting Providers Only
Comments
Related Articles