Process Hacker v1.5 released
Process Hacker is a free and open source process viewer and memory editor with unique features such as powerful process termination and a Regex memory searcher. It can show services, processes and their threads, modules, handles and memory regions.
Version 1.5
New / Improved
#2831605 - "Add handle count by type to process properties handle tab"
#2836706 - "Signature Column in Processes"
Improved kernel modules list
Detects custom kernels
Performance improvements
KTM resource manager information
Fixed
Windows XP BSODs
Incorrect drive letter resolving for file handles
Linked token display on x64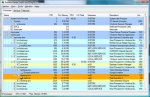 Key features of Process Hacker
A simple, customizable tree view with highlighting showing you the processes running on your computer.
Detailed performance graphs, a complete list of services and full control over them (start, stop, pause, resume and delete).
A list of network connections.
Comprehensive information for all processes: full process performance history, thread listing and stacks with dbghelp symbols, token information, module and mapped file information, virtual memory map, environment variables, handles, ...
Full control over all processes, even processes protected by rootkits or security software. Its kernel-mode driver has unique abilities which allows it to terminate, suspend and resume all processes and threads, including software like IceSword, avast! anti-virus, AVG Antivirus, COMODO Internet Security, etc. (just to name a few).
Find hidden processes and terminate them. Process Hacker detects processes hidden by simple rootkits such as Hacker Defender and FU.
Easy DLL injection and unloading - simply right-click a process and select "Inject DLL" to inject and right-click a module and select "Unload" to unload!
System Requirements
Microsoft Windows XP SP2 or above, 32-bit or 64-bit. Please note that certain functionality including detection of hidden processes, full control over all processes and the ability to protect/unprotect processes is only available on 32-bit systems.
Post scriptum
Compliance Mandates
Forensics :

PCI DSS 10.2, 12.9, A.1.4*, SOX DS7, HIPAA 164.308(a)(1) and (a)(6), FISMA IR-7, ISO 27001/27002 13.2.1, 13.2.3
*Shared Hosting Providers Only
Comments
Related Articles