Katana v1.0 (Kyuzo) released - multi-boot security suite
Katana is a portable multi-boot security suite designed for all your computer security needs. The idea behind this tool is to bring together all of the best security distributions to run from one USB drive. Katana includes distributions which focus on Penetration Testing, Auditing, Password Cracking, Forensics and Honey Pots.
Katana comes with over 100 portable Windows applications such as Wireshark, HiJackThis, Unstoppable Copier, and OllyDBG.
Version 1.0
Updated Ophcrack Live, Backtrack and OSWA Assistant.
Added over 100 portable Windows Applications.
Included addtional documentation.
Added install and uninstall scripts for easier use.
Note
Name: Katana v1.0 (Kyuzo)
File: katana-v1.rar
Size: 5.4 GB
MD5: df6738eec7dce3cbaf4dfab7cc691969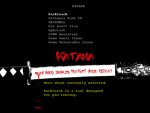 Included in this distribution are:
Backtrack 4 pre
the Ultimate Boot CD
Organizational Systems Wireless Auditor (OSWA) Assistiant
the Ultimate Boot CD for Windows
Got Root? Slax
Ophcrack Live
Damn Small Linux
Damn Vulnerable Linux
Read the F.A.Q.
«Slay your 3nom3s, Protect your 127.0.0.1»
Thanks to our friend Ronin, from HackFromACave.com !
Post scriptum
Compliance Mandates
Comments
Related Articles