Katana v1.0 Beta - portable multi-boot security suite
Katana is a portable multi-boot security suite designed for all your computer security needs. The idea behind this tool is to bring together all of the best security distributions to run from one USB drive. Katana includes distributions which focus on Penetration Testing, Auditing, Password Cracking, Forensics and Honey Pots.
Included in this distribution are:
Backtrack 3
Backtrack 4 beta
the Ultimate Boot CD
Organizational Systems Wireless Auditor (OSWA) Assistiant
Slax 6
Ophcrack XP
Ophcrack Vista
Damn Small Linux
Damn Vulnerable Linux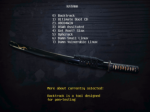 Note:
Name: katana-1.0-beta.rar
Size: 6 GB
MD5: cdb4a3638a59fd020d64653aa5523a13
Installation
Requires USB flash drive of size 8GB or larger with 6GB free space.
Download katana-1.0-beta.rar to local disk. Requires 6 GB of free disk space on local downloading system.
(NOTE: FAT16/FAT32 partitions cannot accommodate a 6GB file.)
Flash drive must be formated FAT32.
(OPTIONAL: Create "katana" directory on local disk.)
Extract katana-1.0-beta.rar to the "katana" directory and move to USB flash drive OR extract directory to the root of the flash drive.
Change directory to the freshly copied /boot directory on the USB device. Make sure you're in the "boot" directory on the USB device!
For Linux/OSX run ./boostinst.sh, for Windows run ./boostinst.bat
Make sure computer BIOS allows USB boot. Boot from flash drive.
All Done!
Post scriptum
Compliance Mandates
Comments
Related Articles