Security-Database @EKOParty 2009 (Bs As, Argentina)
The Annual Security Conference: EKOParty 2009 was released in Buenos Aires, Argentina on September, 17th and 18th. Fortunately, I was able to attend once again.
EKOParty is an unique event and without resemblances in Latin America, with international speakers, and activities like Wardriving, Lockpicking, Wargames (The Capture Flag!), after the conference other activities like Aftercon Party and After Hour...where together we can take some swigs and continue talking.
In this occasion was in Ciudad Cultural Konex that formerly it was a factory and now is a cultural center. It has a very particular style and gave to the event a special touch.
During next days will be published, for all the interested the PDFs of the presentations. =)
See more information and the agenda of the event, to know the level of the same one.
More than 500 people have attended to the EKOParty 2009!!!
What if r00t was one of us?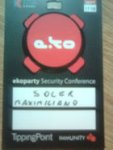 Clarin (local newspaper)
Maximiliano Soler.